New Steam Solenoid valve - V3 PF 6-1/8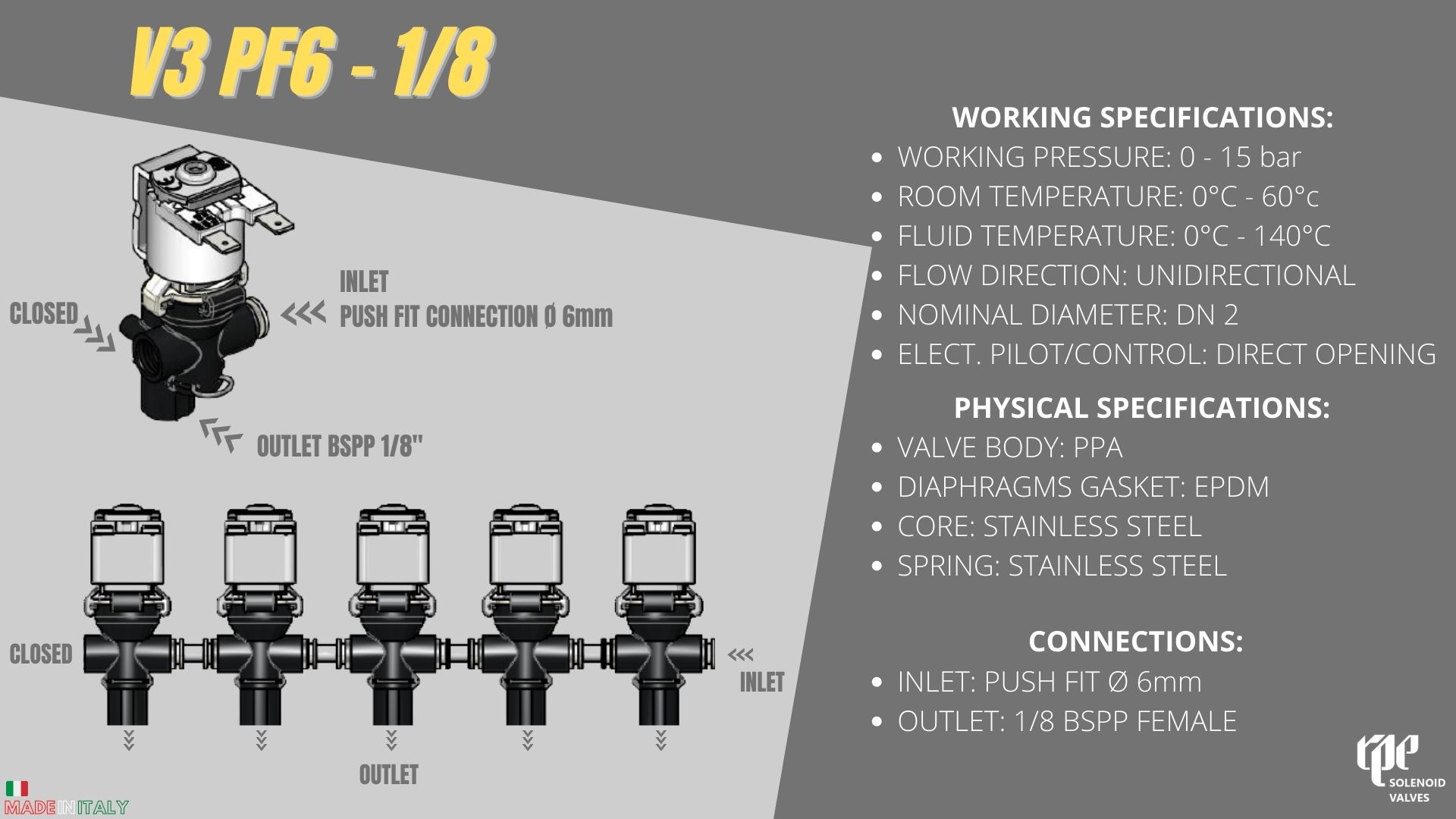 The new V3 PF 6 - 1/8 Valve from our Steam Series expands the range of valves with applications with up to 140°C = (284° F) in fluid temperature and pressure up to 15 bar = (217 psi).
Designed to be assembled in tandem, it is equipped with a pass-through Inlet and 90° Outlet.
The valve is ideal for all those applications where continuous fluid circulation is required (Ex. Hot Water Tap Boilers), providing different outlet possibilities.

The valve is available in end-of-line version to complete entire circuits.
The V3 PF 6 is a versatile valve, which can be used inside a Hot Beverage Dispenser, Medical Equipment, Professional Laundry Pressing Machines and many other applications.
TECHNICAL INFORMATION
WORKING SPECIFICATIONS
WORKING PRESSURE: 0 - 15 bar

ROOM TEMPERATURE: 0°C - 60°C

FLUID TEMPERATURE: 0°C - 140°C

FLOW DIRECTION: UNIDIRECTIONAL

NOMINAL DIAMETER: DN 2

ELECT. PILOT/CONTROL: DIRECT OPENING
PHYSICAL SPECIFICATIONS
VALVE BODY: PPA

DIAPHRAGMS GASKET: EPDM

CORE: STAINLESS STEEL

SPRING: STAINLESS STEEL
CONNECTIONS
INLET: PUSH FIT

ø 6 mm

OUTLET: 1/8 BSPP FEMALE
APPLICATIONS
HOT DRINKS DISPENSER

IRON

MEDICAL EQUIPMENT
FOR MORE INFO:
- Mail: customercare@rpesrl.it
Order a sample or ask for quotation