RPE Irrigation Solenoid valves - Third series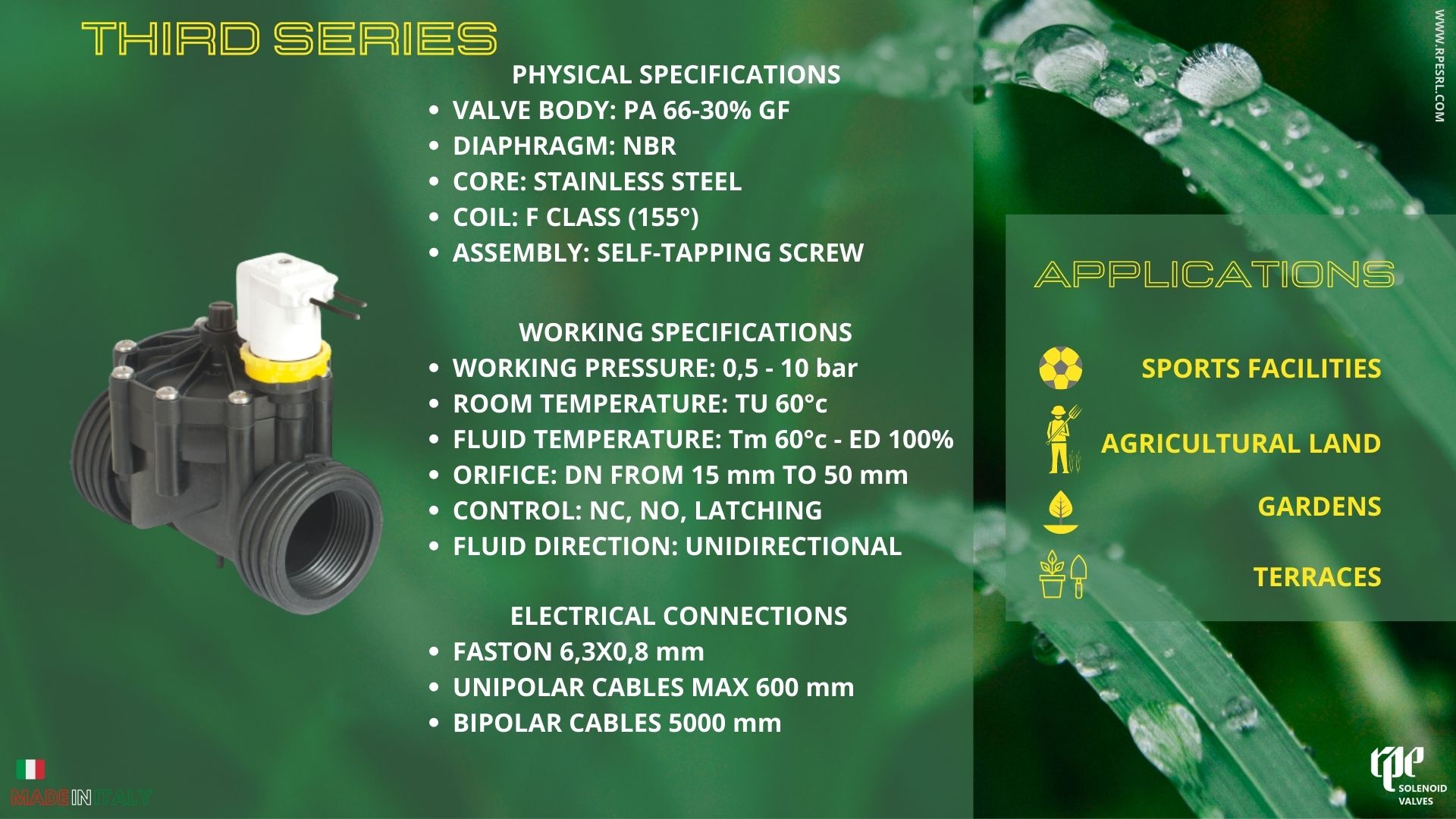 The Third Series solenoid valves are designed for professional irrigation systems.
This Valve Series is suitable for use in Agricultural irrigation systems, Sport Fields and Golf Courses, as well as for Commercial and Residential applications.
Equipped with a flow regulator and a sturdy body made in Nylon with 30% Fiberglass, makes this valve extremely reliable for the professional installer looking for top performance.

RPE Third Valves can be activated manually with a unique system that keeps the solenoid in place.
The yellow safety ring gives further security for the solenoid to be inadvertently rotated or removed while the valve is under pressure.
These valves have a Pressure Rating of 0.5 bar to 10 bar (7.25 psi to 145 psi), with the best pressure drop in the industry.
TECHNICAL INFORMATION
PHYSICAL SPECIFICATIONS
VALVE BODY: PA 66-30% GF

DIAPHRAGM: NBR

CORE: STAINLESS STEEL

COIL: F CLASS (155°)

ASSEMBLY: SELF-TAPPING SCREW

WORKING SPECIFICATIONS
WORKING PRESSURE: 0.5 - 10 bar

ROOM TEMPERATURE: TU 60°C

FLUID TEMPERATURE: Tm 60°C - ED 100%

ORIFICE: DN FROM 15 mm TO 50 mm

CONTROL: NC, NO, LATCHING

FLUID DIRECTION: UNIDIRECTIONAL
ELECTRICAL CONNECTIONS
FASTON 6,3 X 0,8 mm

UNIPOLAR CABLES MAX 600 mm

BIPOLAR CABLES 5000 mm
APPLICATIONS
SPORTS FACILITIES

AGRICULTURAL LAND

GARDENS

TERRACES
FOR MORE INFO:
- MAIL: customercare@rpesrl.it
Order a sample or ask for quotation