We work to guarantee you a quality coffee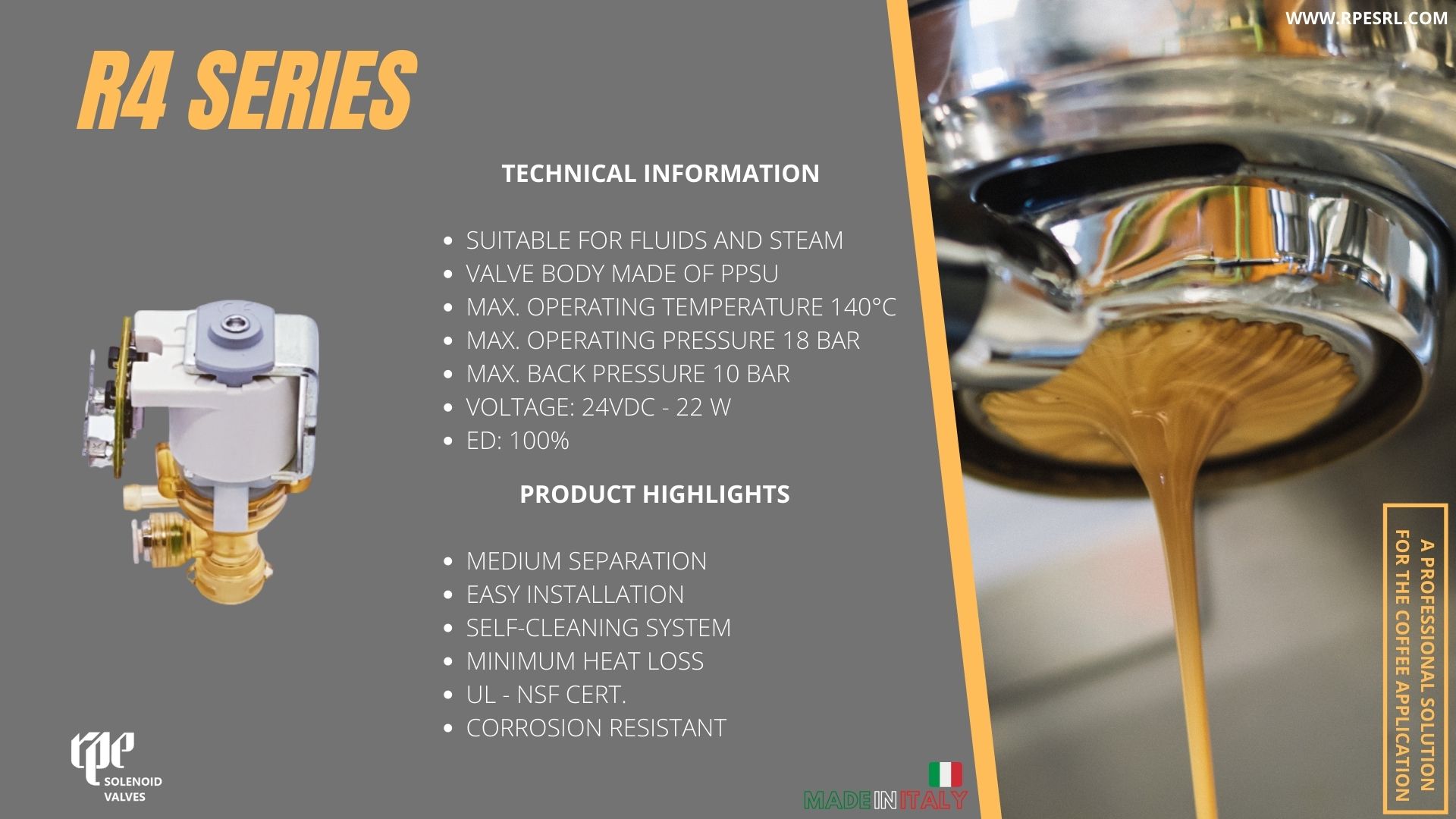 RPE dedicates a wide range of products to the coffee industry, with specific solutions both for professional coffee equipment like the automatic and superautomatic machines, but also for coffee machines and brewers for residential and light commercial use.
The modern coffee machines that can dispense both coffee and other beverages, such as cappuccino, latte macchiato, tea and hot chocolate, are extremely complex applications that require high-end design and high quality components, materials and industrialization, that will require long testing process to guranatee the life expectancy and the correct and precise operation of the equipment.
In order to meet the needs of the food sector, the range of RPE' Solenoid Valves, Pressure Reducers, Flow Meters and Filters are MOCA certified for food contact, and also contain international certifications: NSF, WRAS and KTW.
From the performance point of view, RPE products guarantee to our customers high quality results that ensure the performance and the correct taste of a good coffee, therefore bringing complete satisfaction to the end-user.
- Water Temperature: RPE Solenoid Valves are made in PPSU capable of working up to 140°C (284° F), this allows the water not to undergo thermal changes and to maintain the taste and flavor of the drink.
- Pressure: A quality Espresso needs a pressure of between 9 - 10 bar (130 - 145 psi), however modern coffee machines often require higher pressures to ensure that other functions are performed. RPE Solenoid Valves can work up to 18 - 21 bar (261 – 304 psi), allowing us to offer our customers greater design frexibility.
- Water Quality: The Solenoid Valves from the "Steam Series" are equipped with a self-cleaning system that mechanically removes limestone residues accumulated in the orifice, ensuring a longer life and less maintanence on the machines.
To know the entire range of RPE products, dedicated to the coffee industry, click here.
Order a sample or ask for quotation